Last night, I decided I'd finally bite the bullet on playing Paradox Interactive's Grand Strategy game Crusader Kings 2. While I have some of the DLC as part of a Steam sale purchase in the summer, I decided I'd play the vanilla game first to get used to it: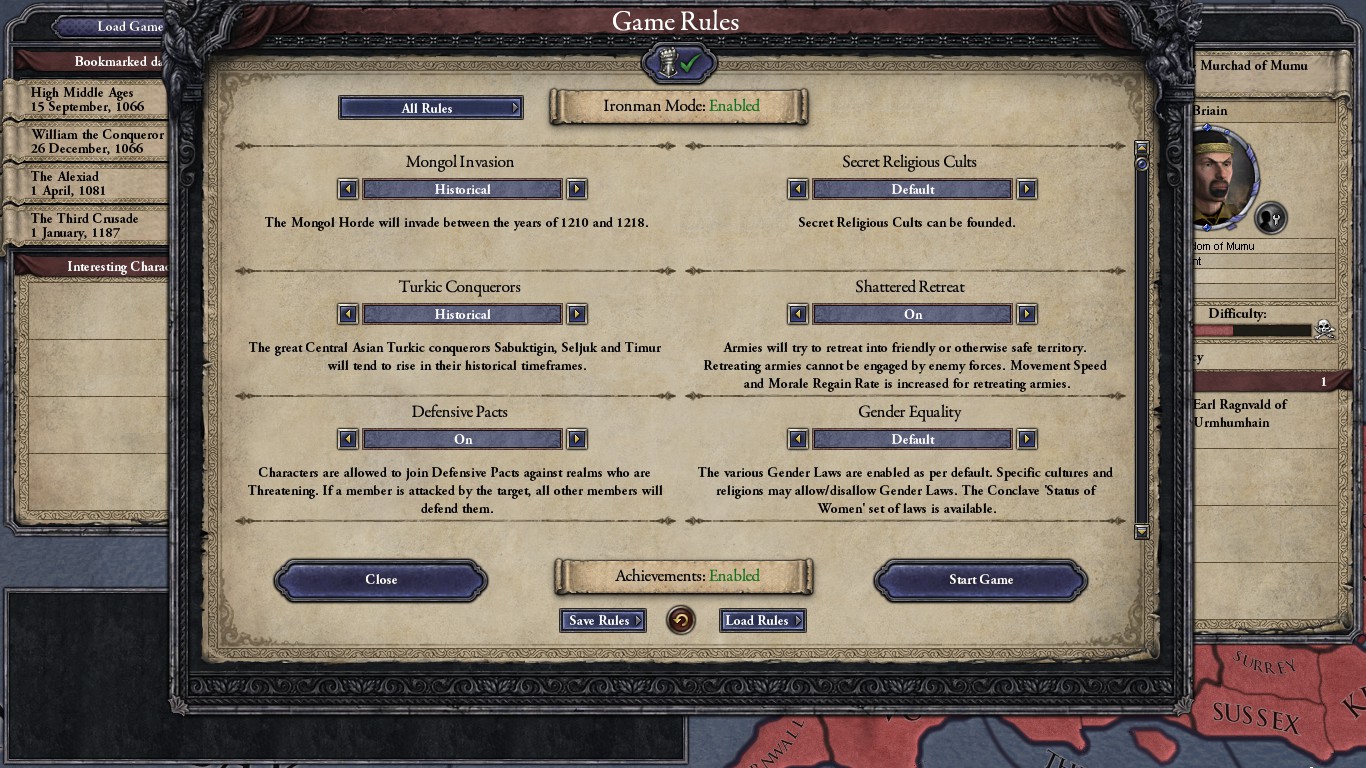 I went with Iron Man mode, just to enable Steam Achievements, but otherwise left everything as default. My research indicated that the smart place to start for a complete newbie was in Ireland, so that's what I did: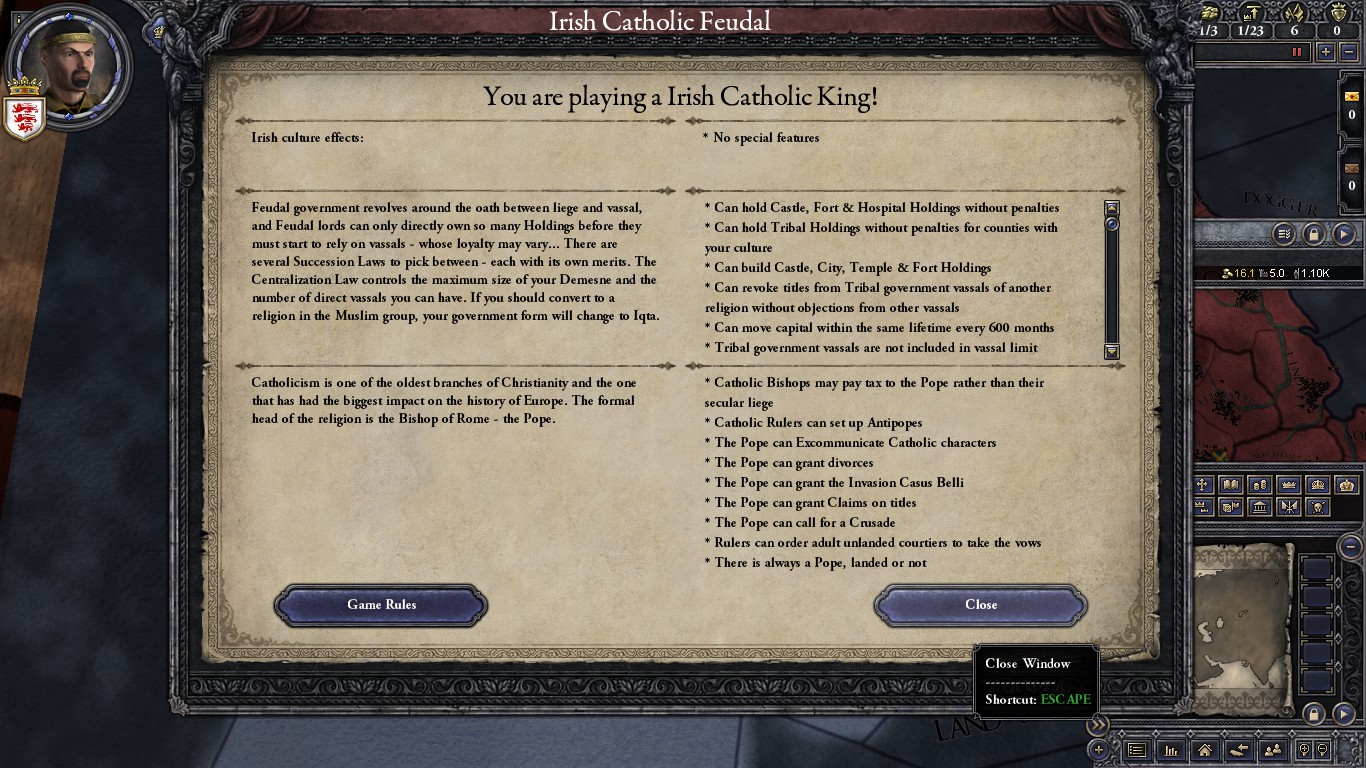 Specifically, I'm playing King Murchad of the Petty Kingdom of Mumu, who rules the counties of Tuadhmhumhain and Urmhumhain and has a de Jure claim on Deashumhain.
Murchad already has an heir, named Brian. Both Murchad & Brian are unmarried, so the first things I do are set Murchad's ambition to get married, and seek out spouses for them.
After a brief search, Murchad marries Almode de Blois: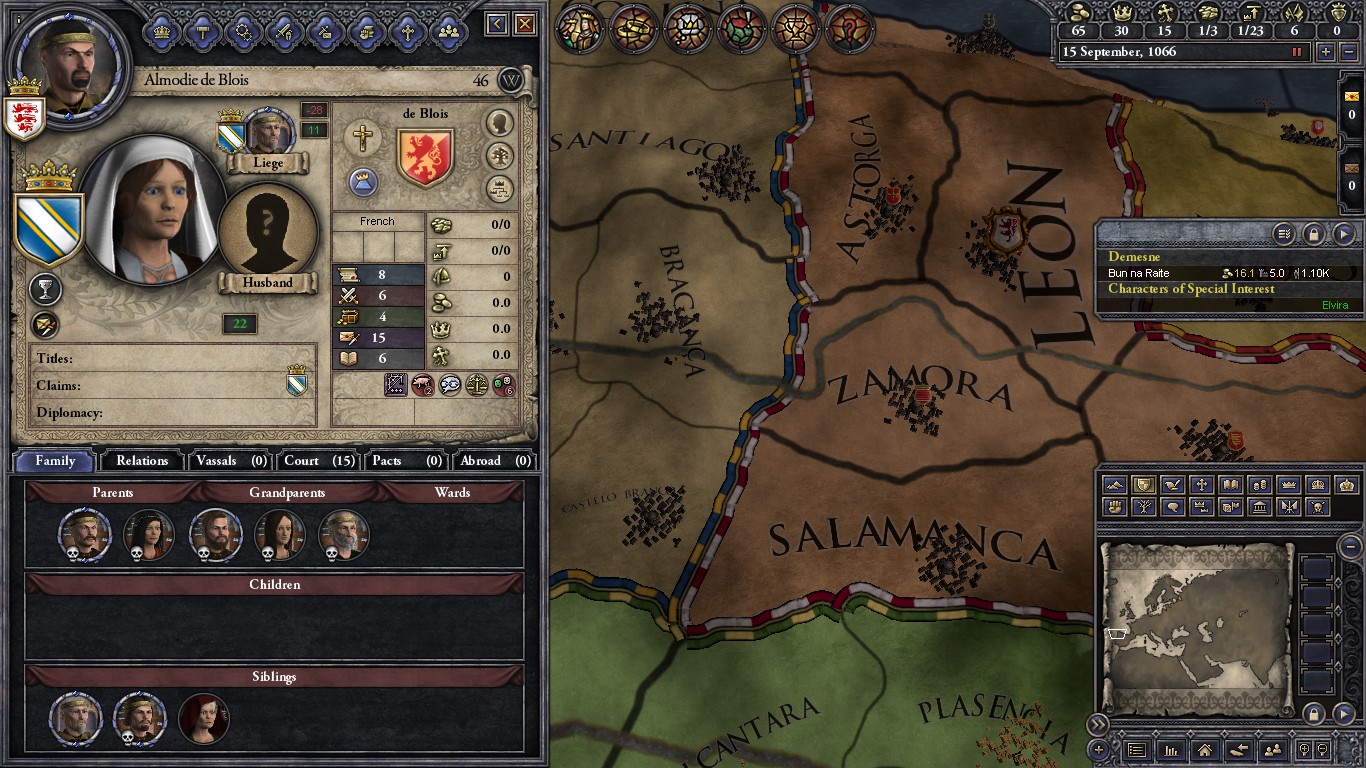 Brian marries a Courtier named Elvira, though I don't believe she's a Mistress of the Dark: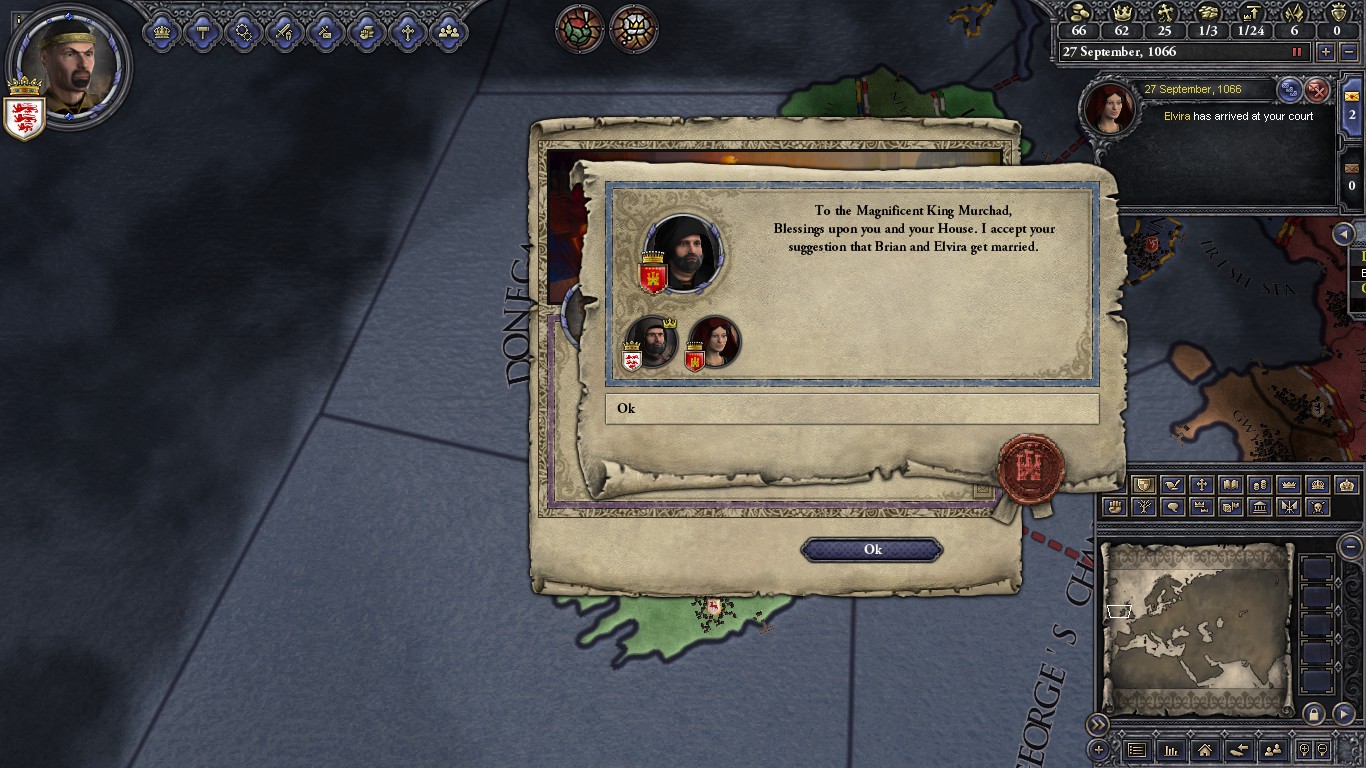 Once, that's done, Marchad switches his ambition to getting educated because statistically, he's dumb as a box of rocks..
Elvira proves to be fertile almost immediately, and my heir now has a son, who he's named after me, so the House of Ua Briain is getting some descendants: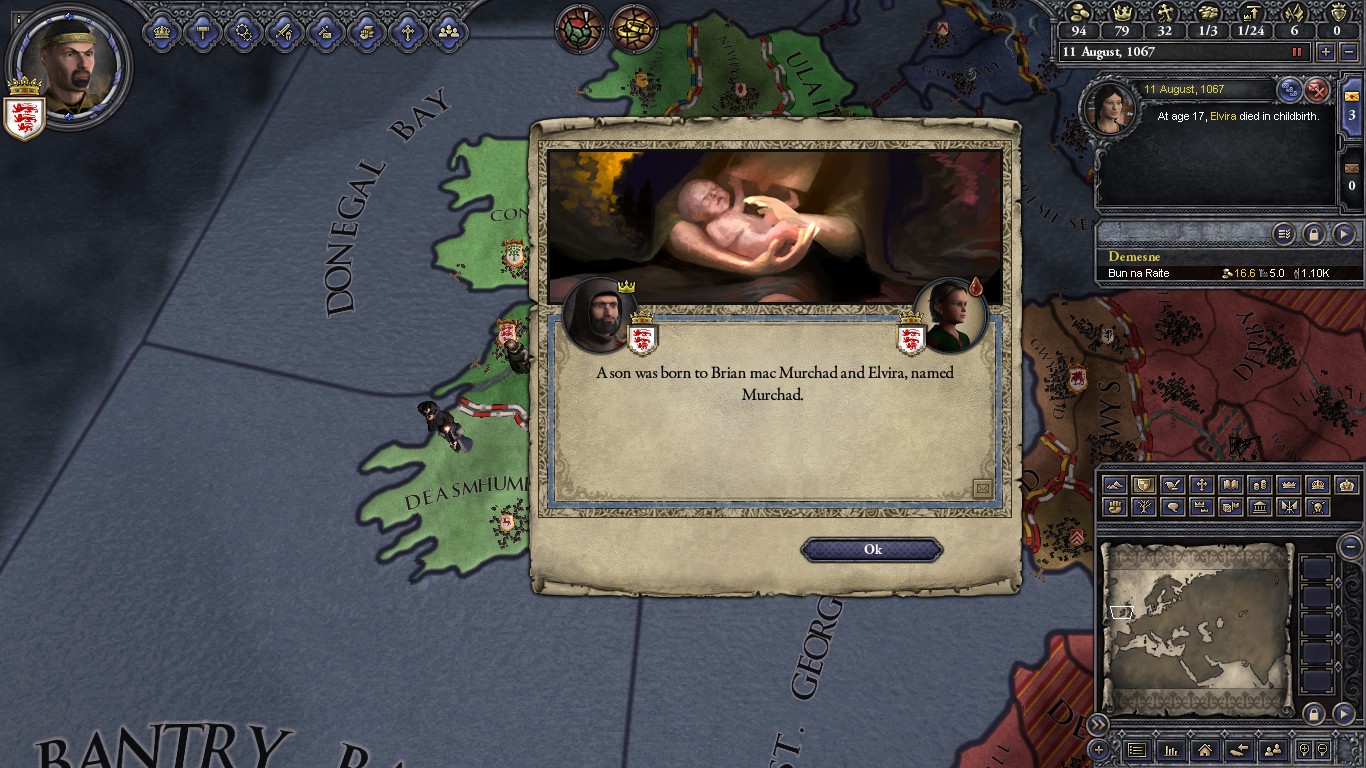 Unfortunately, giving birth kills Elvira. Before I can arrange a new marriage for my heir, some envoys come and bother me: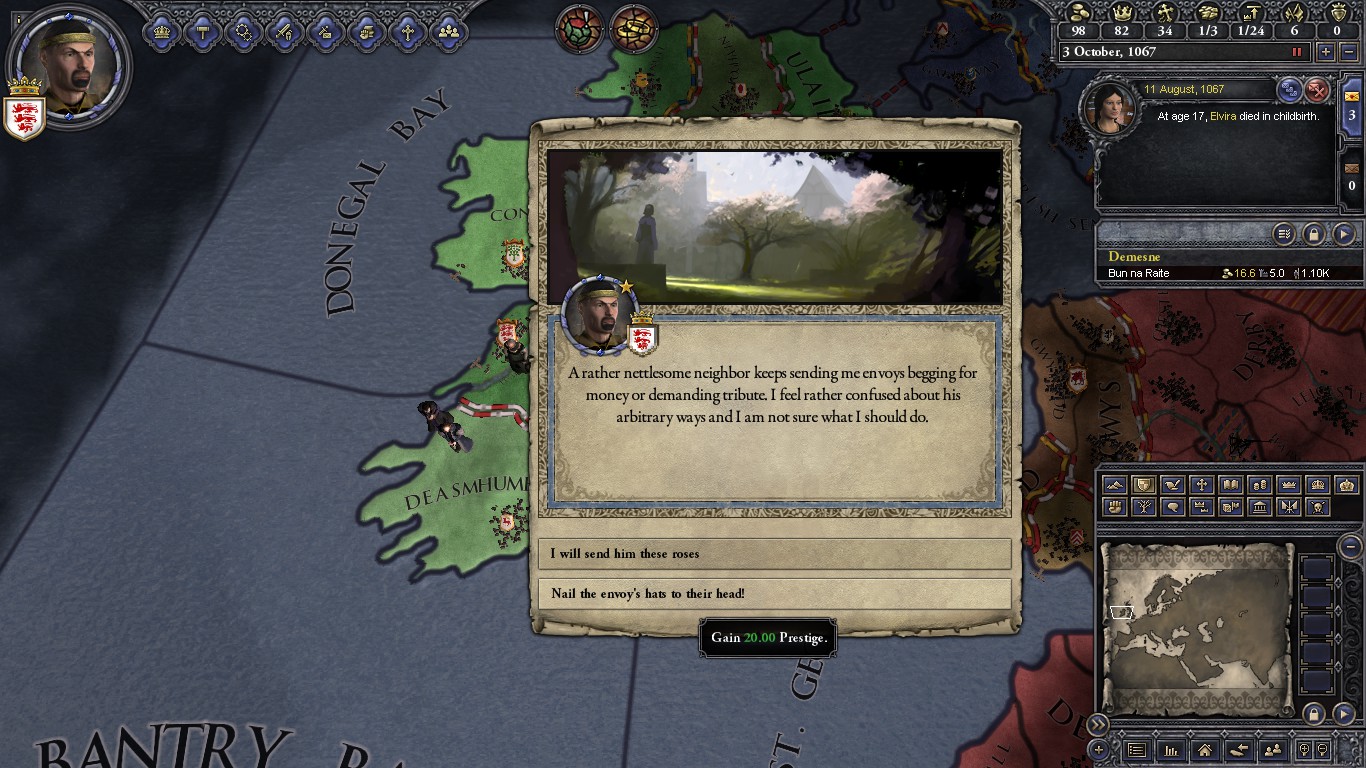 I nail their hats to their head in my grief-induced madness. I marry Brian off to Trodilde "The Unfaithful" of House de Sousa. With an epithet like that, I figure they'll be further issue, even if it's of questionable legitimacy.
I look into pressing my claim on Deasmhumhain, and since our military strengths are fairly similar, decide to do so by declaring war: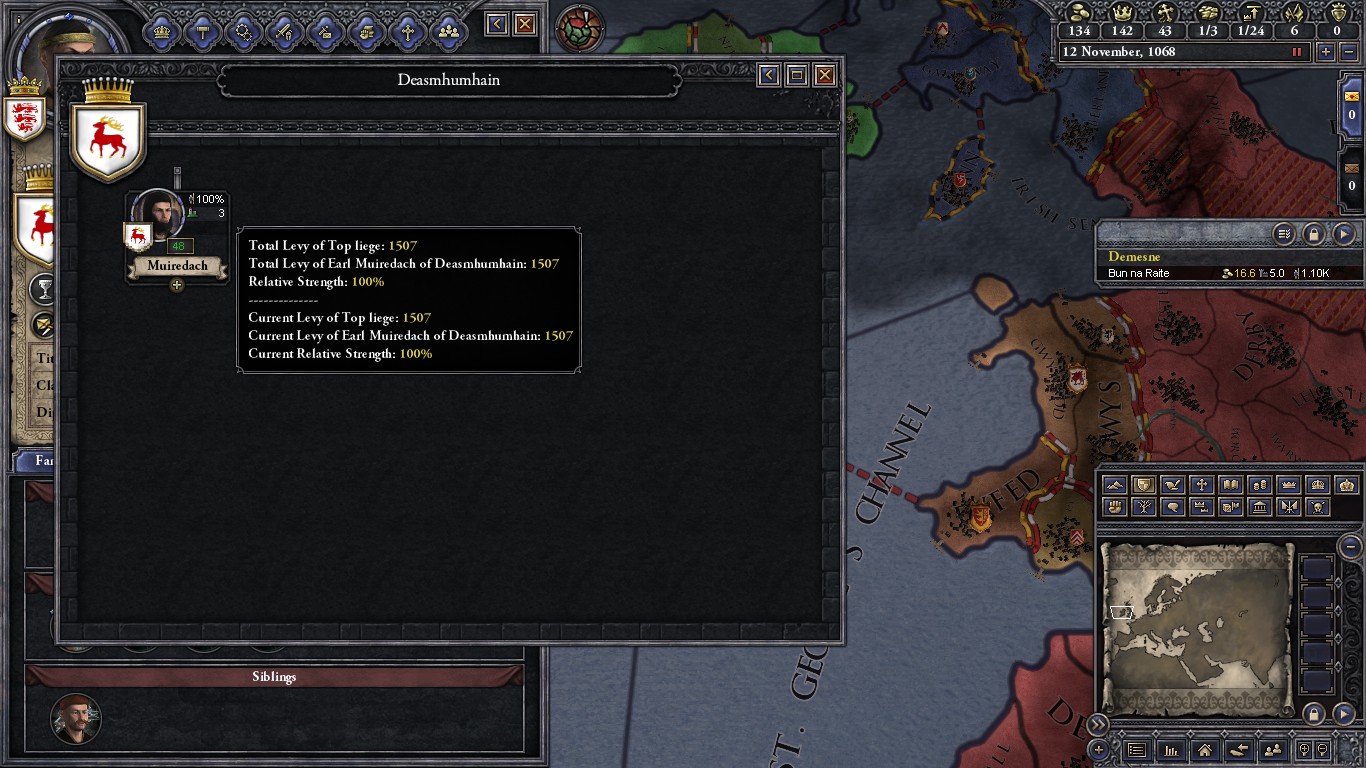 Unfortunately, Earl Muiredach, unbeknownst to me has formed some alliances via marriage ties (which I didn't know was a thing yet) and is able to raise damn near 4,000 troops. Needless to say, the brief war over my de Jure claim ends with Murchad surrendering and losing a lot of prestige. I decide to consolidate within my kingdoms and order my council members accordingly. Mostly about forging better relations with the people of Deasmhumhain, and training up troops in my realm.
After learning astronomy, and almost appearing smart, I'm suddenly widowed, and so seek to remarry, hopefully my new queen, Godechilde de Vassy can do what her predecessor did not and give me a child.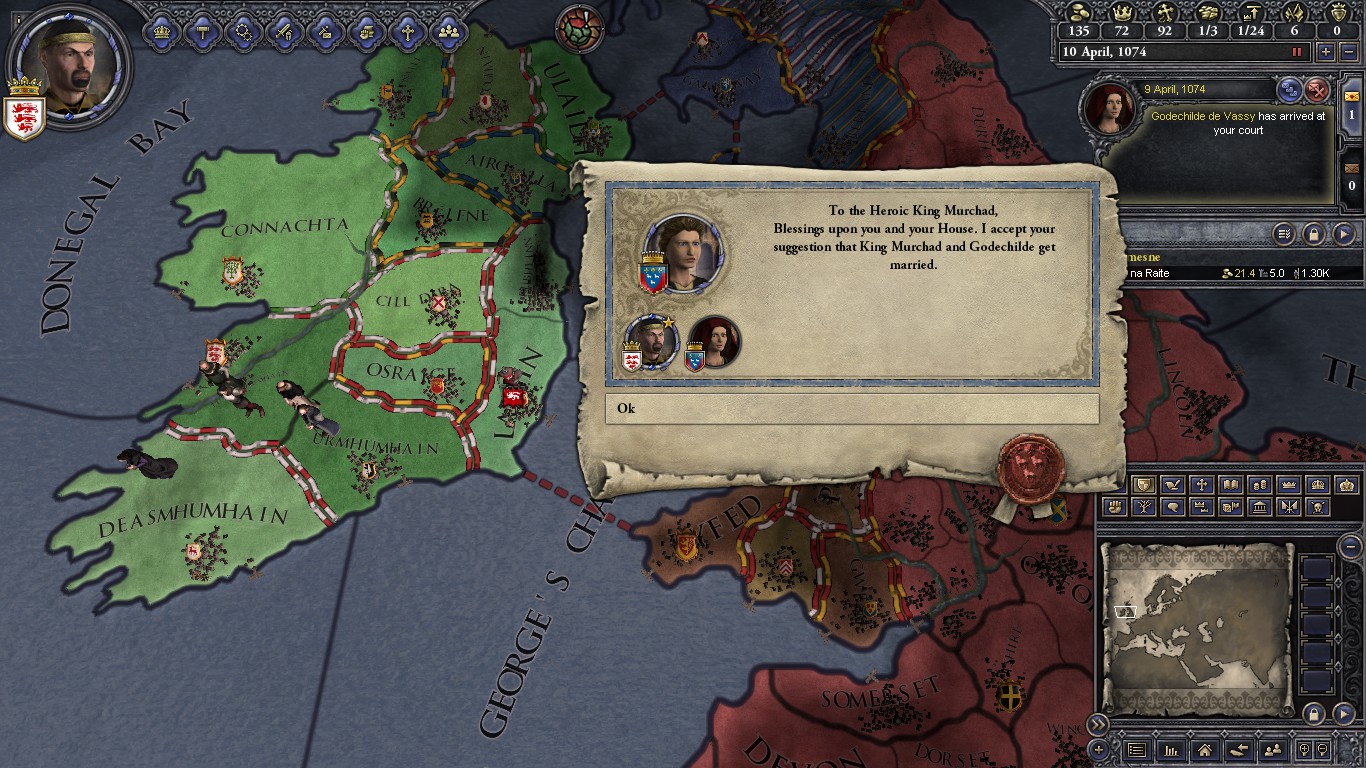 Once I'm wed, I work with a local dogsbody named Meldrick to try and develop a flying machine. It crashes, but I do appreciate a good Blackadder reference: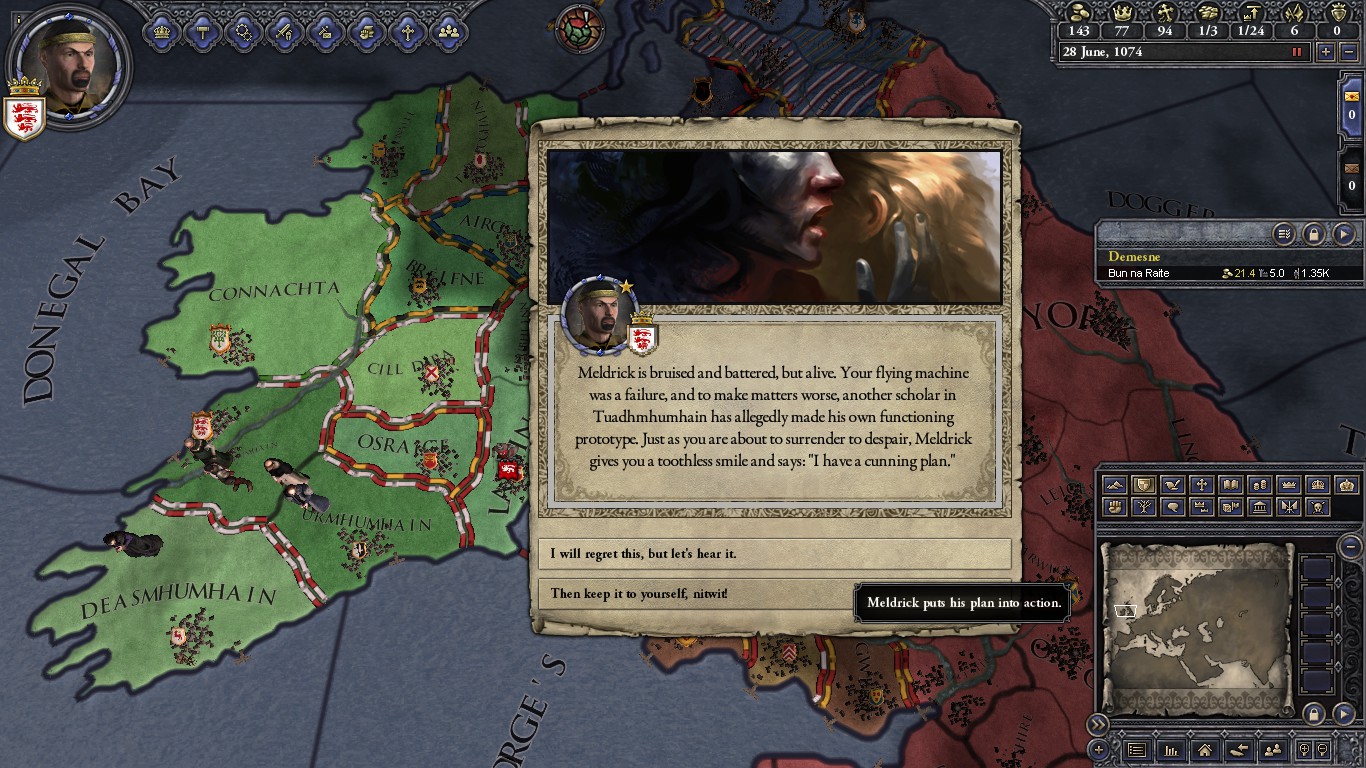 Meldrick's cunning plan inevitably failed, but it was still enough to achieve Murchad's ambition of learning, so he switches to the less noble goal of getting rich or die trying. While I'm doing this, my son and heir has decided to plot against me. How sharper than a serpent's tooth it is to have thankless child. I caught him in the act: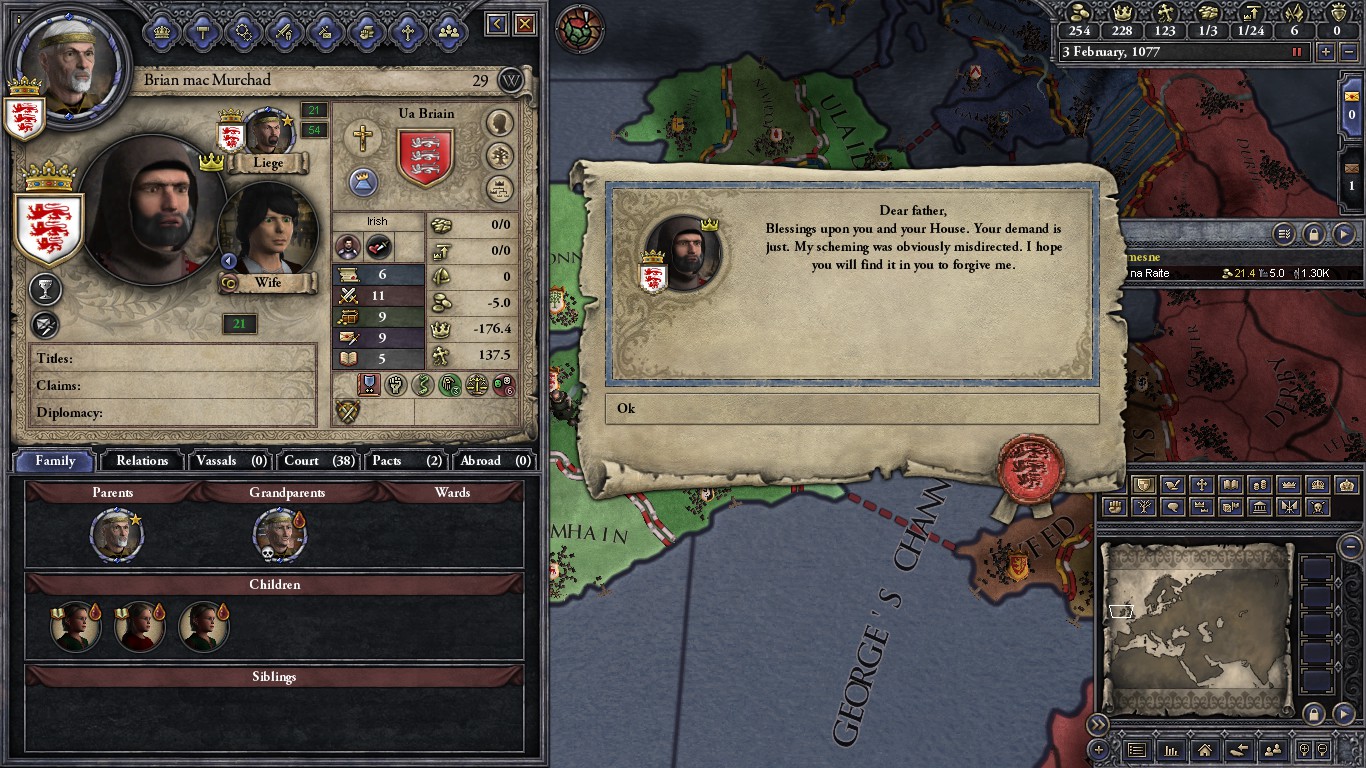 And forgave him, because I'm a soft touch. Also, because it turns out that I now have a heir and a spare (even though Gavelkind doesn't work like that):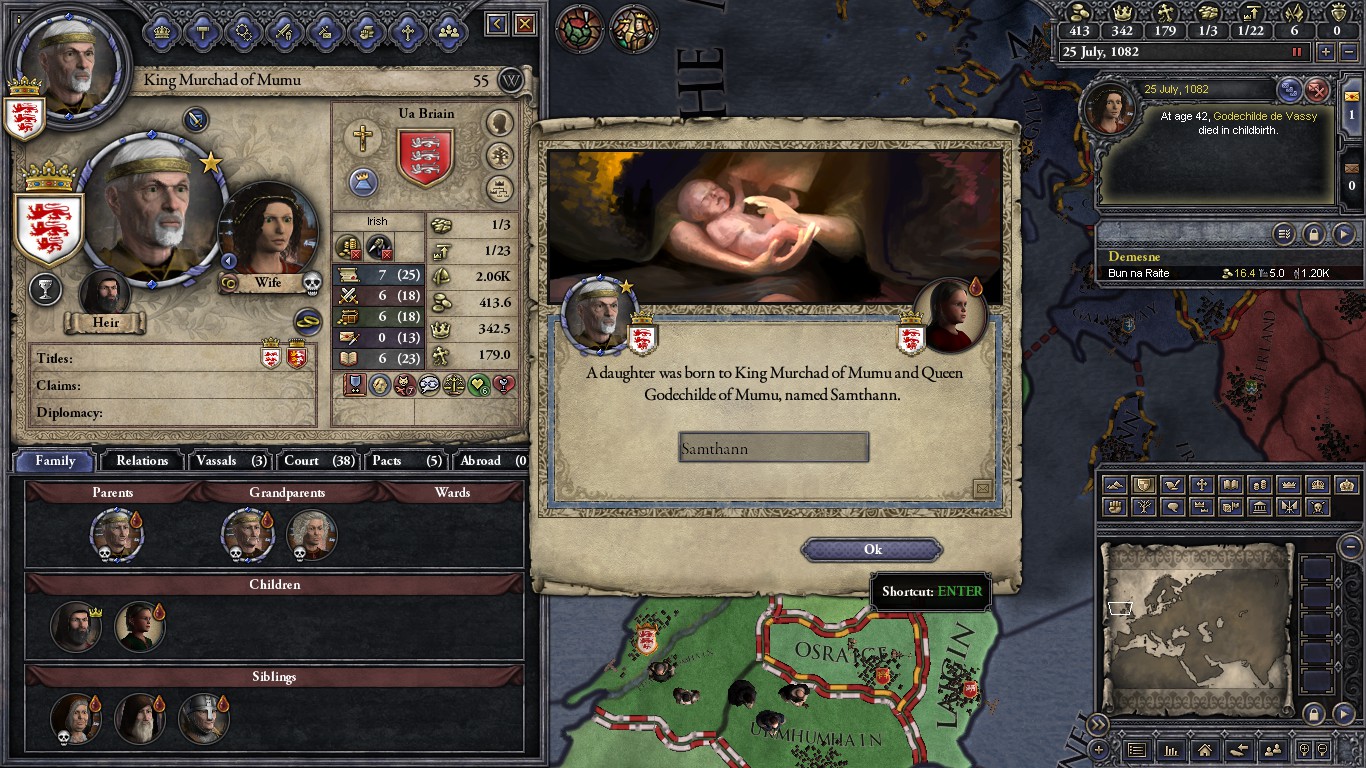 It's a pity she's a daughter considering the era, but nobody's perfect. Also somewhat imperfect is that Godchilde died giving birth to said daughter, so I need to seek yet another spouse.
While seeking said spouse, the coffers of Mumu were filling up rapidly enough that Murchad achieved his get rich ambition. I switched him to desire to found and rule the Kingdom of Ireland, though I  knew he wasn't going to manage that. Murchad's latest spouse is a Saxon named Aelgifu. Despite the rapidly advancing age of both of us, she bears me a son, Eterscél. Which is just as well, as my pre-existing heir Brian dies in an accident in his early 40s: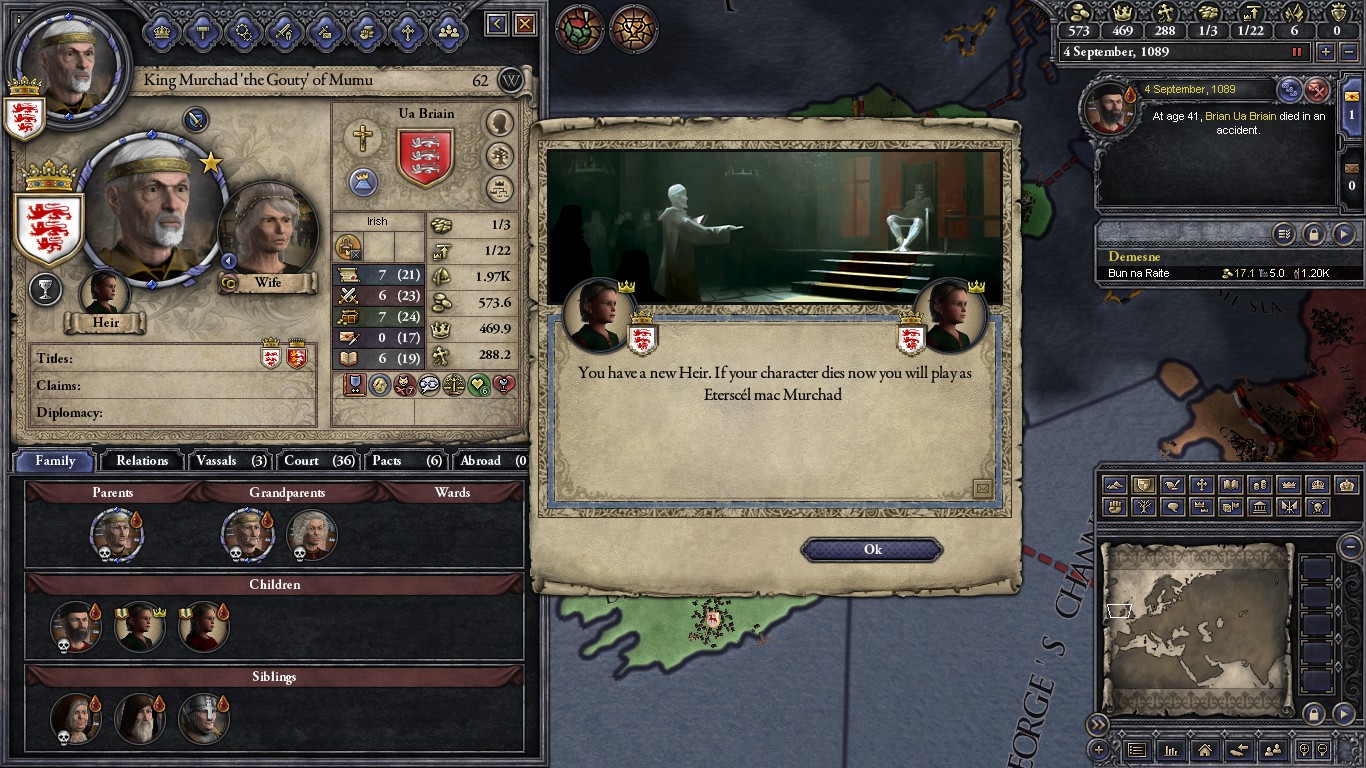 Of course, not everything goes so well, and my Chancellor, Áed accuses my queen of murder. I appease him by tossing her in prison for a few months, but release her after the hullabaloo dies down.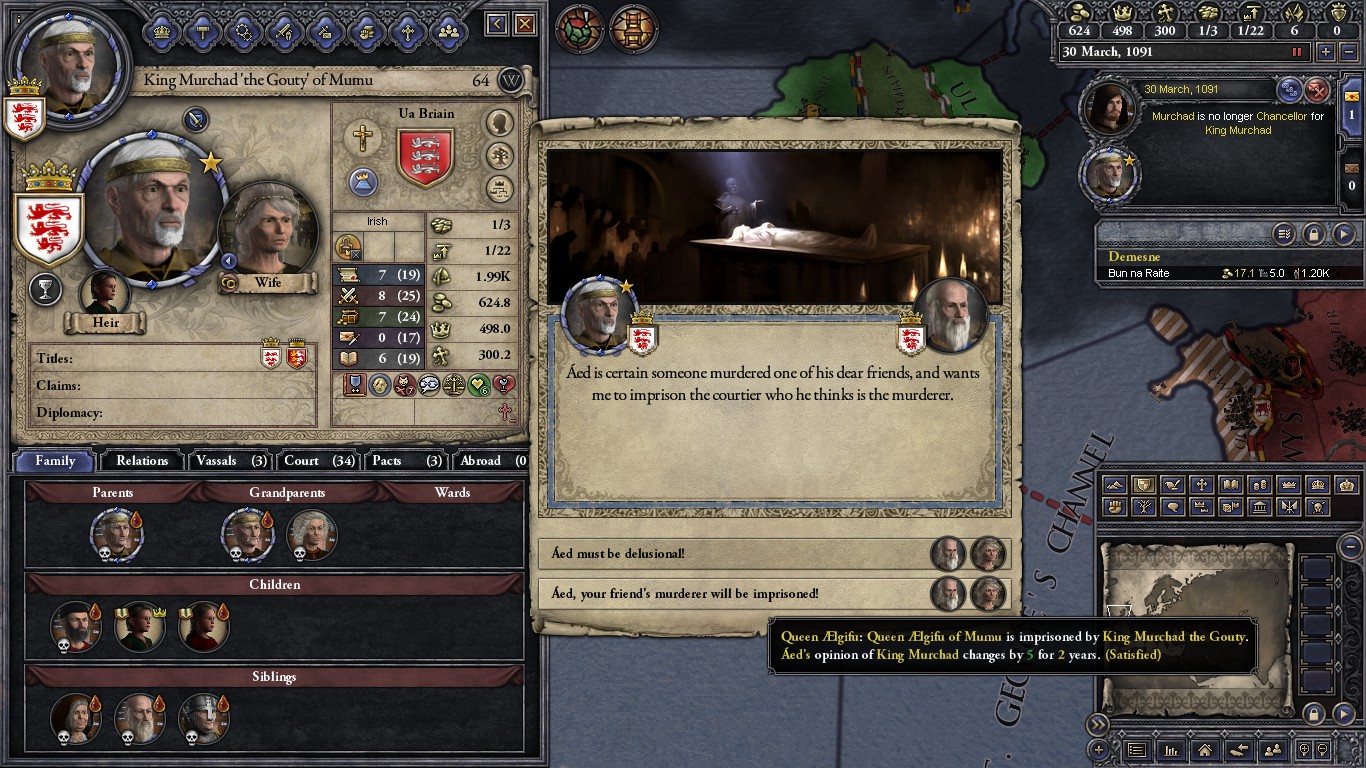 As he's became aged and infirm, King Marchad has acquired the less-than-flattering soubriquet "The Gouty." And he finally passes away in July of 1094 after serving as King of Mumu from 1063.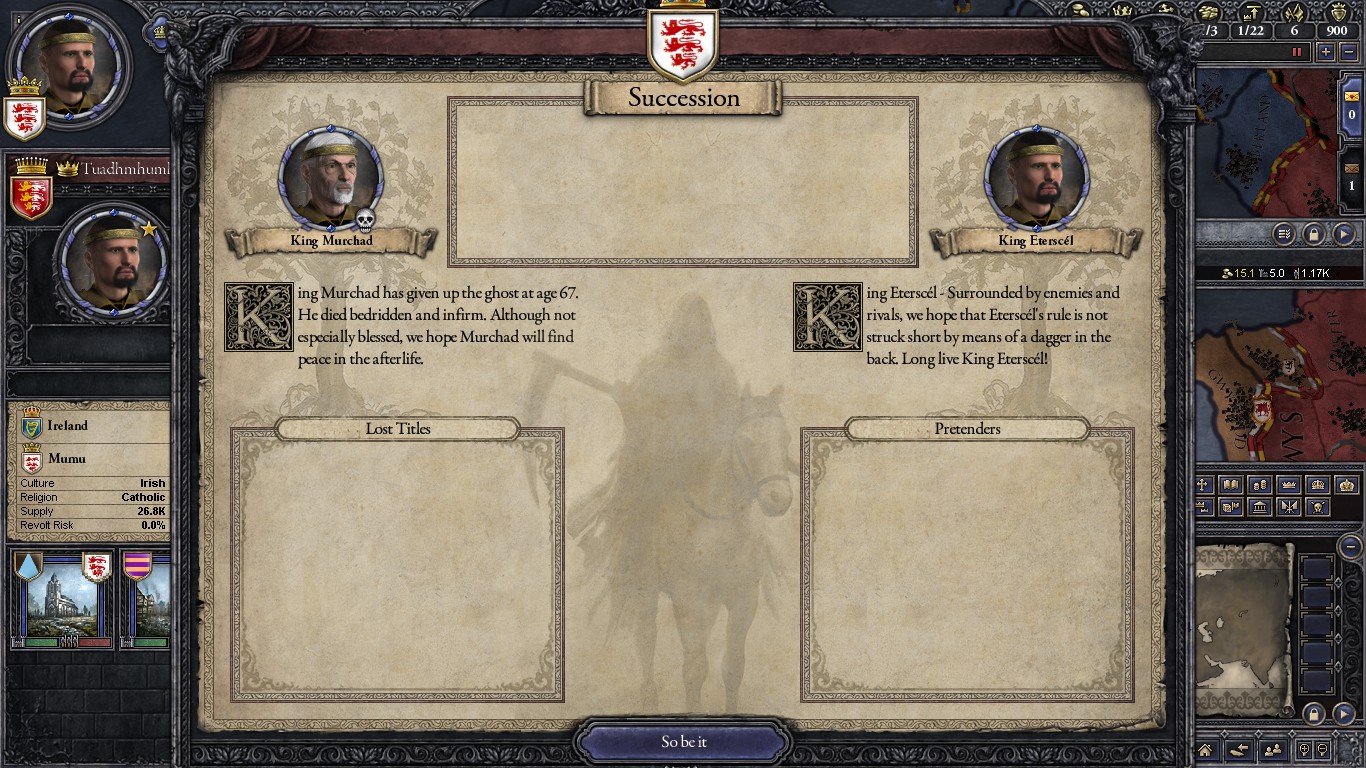 After 31 years on the throne, that was the uneventful reign of King Marchad. Now Mumu has a new King, Eterscél. I'm going to try and be more pro-active with his reign, and try and figure out how the battle system works to press my claim on Deasmhumhain more effectively. Here's Eterscél's current military strength to work with.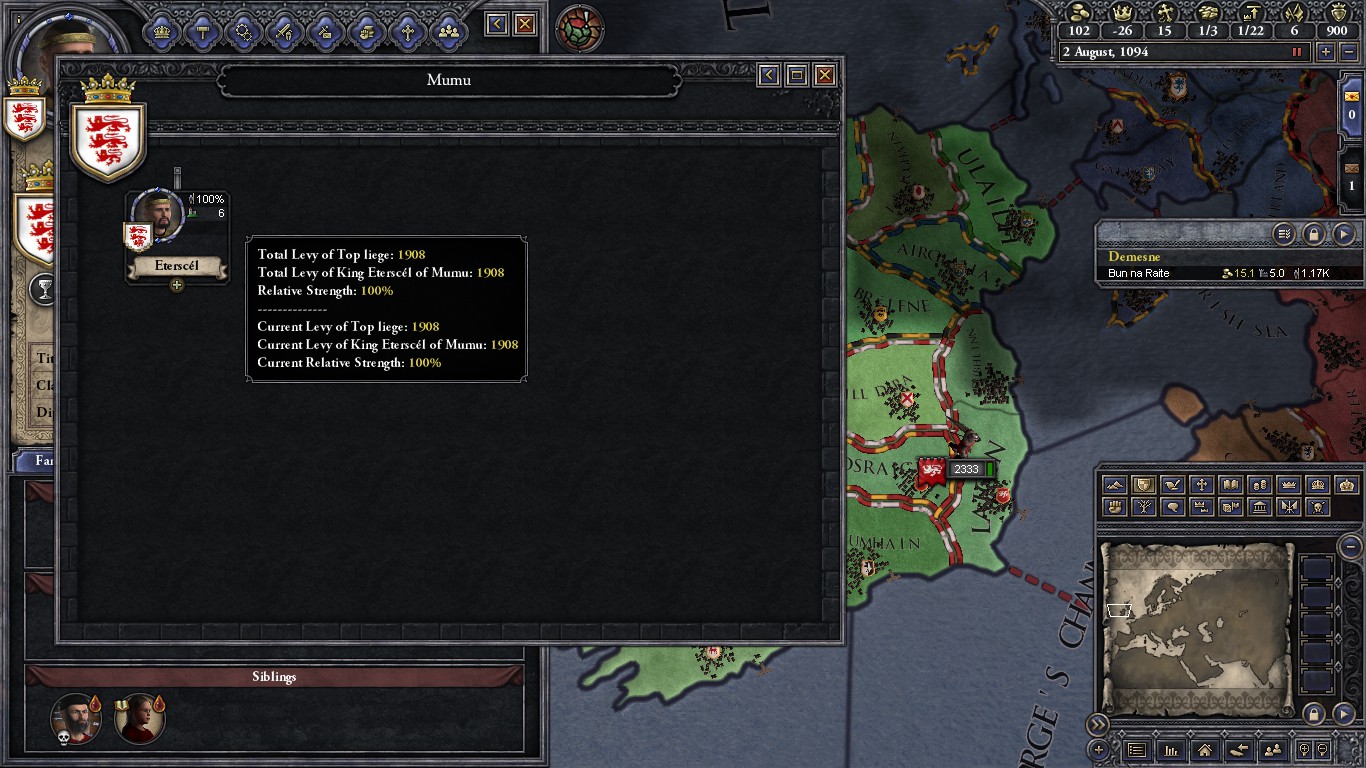 Okay, so what approach should I take with this new King?